The New Normal Prove & Scale Model:
Our tried and tested methodology is based on two decades of experience building and scaling international software companies. It has proven itself as a great go-to resource for entrepreneurs and venture investors alike, and is something we recommend looking into if you are in the start-up market.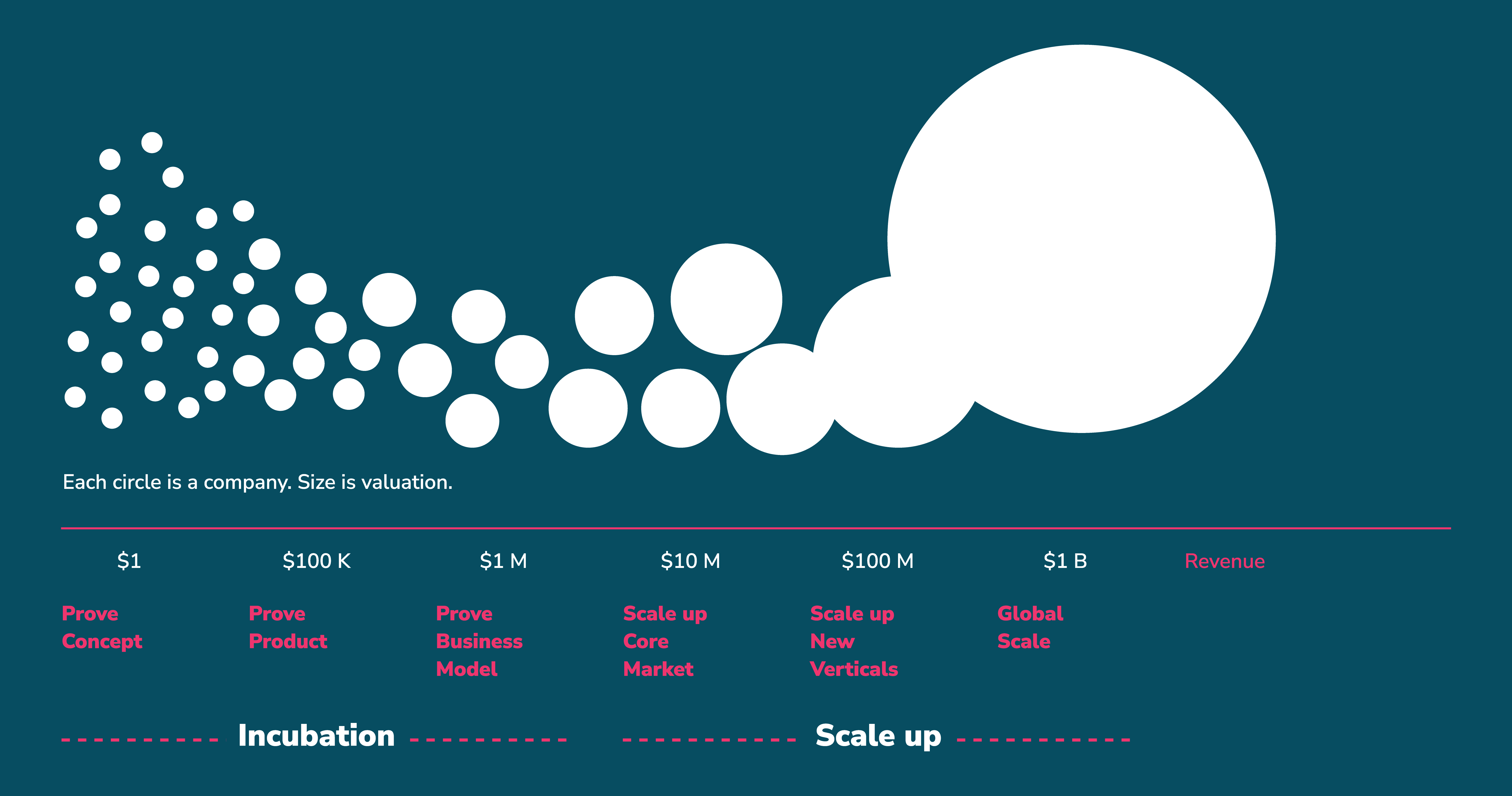 Step 1. Prove the Concept
We often meet founders who have spent large amounts of resources building up their technology before ever getting to know their target customers, the problems those customers are looking to have solved, or the features they value. This is a common mistake: at this early stage of a start-up, the real value lies in prototyping, testing, and proving the concept, product or idea. This gives you time to fine-tune your value proposition and see where your product best fits within its specific market. 
Once you have found your market sweet spot, with validation coming in from actual customers that have signed and committed to your offer, you have yourself a successfully proven concept. With the first paying customers and a working first version, the start-up is ready to invest in a scalable product. 
Step 2. Prove the Product
With a clearly defined and validated value proposition, you are ready to invest in your product. Driven by the proven market requirements and your product vision, you define your roadmap and build out the product capabilities.
Typically, this is done while you are also building up your team. But keep in mind that early-stage processes need to be agile and continuously interacting with real customers and demand, preventing your product from falling off-course.  
Once you have been able to sell and deliver to your first high-demanding customers — a vital point for testing your product and value proposition — you can say that you have successfully proven your product and are ready for the next step.  
Step 3. Prove the Business Model Metrics
Before scaling, you need to prove your product's replicability (or it's ability to perform consistently over and over again). Often times, this is not easy, and I have personally failed at this more than once. Particularly by moving too fast and scaling up a sales team before having a solid replicable model and the tools to support them. 
While founders are often able to sell their ideas based on a vision or unique industry insights, a sales team needs a packaged and proven tool-kit of key references, leads, customer journey KPI information, sales pitches and marketing material, all of which can be consistently replicated across target customer segments.
The goal is to gain customer journey metrics (like customer acquisition costs, conversion rates, lifetime value and churn) and build out those replicable methods and tools. With this in place, you are ready to scale up your marketing spending and grow your sales team. 
New Normal Group has extensive experience using these methods and tools with B2B Software as a Service (SaaS) companies. And if the proper steps are taken to reach the 'proven business model' level, with both the data and the tools at your disposal, you can expect be at a $1 - $2million ARR (annual recurring revenue) level.
Step 4. Scale Up
You now have a proven concept, product and business model, each ready to be replicated and enter into what we like to call the 'first scale'. This is essentially a breakaway point to deploy growth investments in a smart and scalable way. 
However, this is also a critical phase where execution is key. Taking the company from the first $1M to $10M requires continual focus, discipline and agile thinking, to test, learn, and adapt to an ever-changing market. 
When you are closing in on $10M with a proven concept, product and business model beside you, and you have built the core execution framework for scale, you are ready to take on the extensive growth funding needed to take your company to scale. 
At this point, you have successfully taken your company systematically from a start-up to a scale-up, and your company ticks the boxes the top tier venture investors look for. 
Conclusion
Our experience, both as entrepreneurs and venture investors, is that working systematically through the different stages of the New Normal Prove & Scale Model greatly increases the success rate of start-ups. By taking meaningful and intentional steps through the different growth elements, we can take companies from start-up to scale-up effective and efficient.